A Unified and Secure Data Catalog for Compliance, Risk and Security
Learn how a multinational Investment Bank was able to catalog all their data in weeks.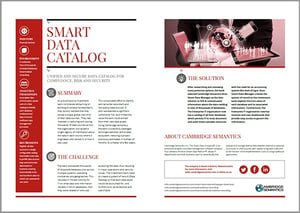 A multinational investment bank had tens of thousands of disparate data silos spread across multiple systems and locations, creating both operational and security issues. They knew they needed to get control of their data and the best way to do that was to create a Data Catalog of all their data assets. Unfortunately, they estimated that it would take months to catalog all their data. However, by choosing Cambridge Semantics' Anzo Smart Data Manager, they were able to do all this in a matter of weeks.
Download this case study to learn how Anzo Smart Data Manager allowed them to not only acheive their goals but also do so in a fraction of the time.