Accelerating the Path to Value with Business Intelligence and Analytics
Learn the best practices that allow enterprises to draw conclusions, insights and predictions from their data faster.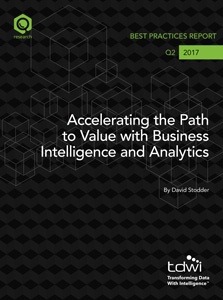 Executives, managers and frontline personnel are demanding better access to data and faster development of Business Intelligence (BI) and analytics applications in order to avoid making (potentially bad) decisions based on old and incomplete data. In addition, business stakeholders also want a higher return on their investment in BI, analytics, and data management technology.
TDWI's research uncovered a number of important issues, including organizational issues, practices, and development methods, that can determine the timeliness and degree of "downstream" value delivered by BI and analytics. Download this report to learn more.