Simplify and Speed Compliance with Federal and International Regulatory Mandates
Learn how Anzo Smart Data Lake® helped a leading global pharmaceutical company that was struggling to comply with federal and international mandates for clinical data standards.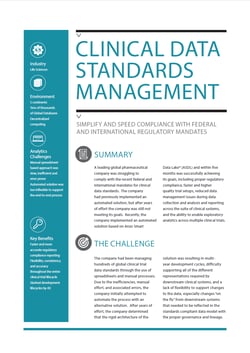 Cambridge Semantics' Anzo Smart Data Lake (ASDL) is a new kind of data management platform that automates previously manual approaches – and is unlike any other automated solution in the marketplace. ASDL is the only knowledge-graph based solution for clinical data standards management. As a result of this fundamentally different underlying foundation, it provides a dramatically more flexible platform that allows organizations to easily adopt and use metadata standards (CDISC) and integrate these standards with their internal processes, systems, and partners.
Download this Case Study to learn how ASDL allowed this industry leader to address the shortcomings associated with managing hundreds of global clinical trial data standards with spreadsheets and manual processes by using the powerful and flexible ASDL, implemented in less than five months.