Applying Anzo Smart Data Lake® to Address the Top 10 Priorities for State CIOs
Learn how State Government agencies can improve operational efficiencies and increase data transparency.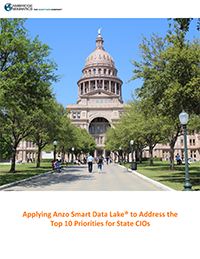 As part of an evolution in IT towards making data smarter, the Smart Data Lake extends the raw analysis of a data lake with semantic technology to enable holistic enterprise analytics and provide data inventory, security, and integration. The Smart Data Lake applies an optimal level of intelligence to the raw data, such that end users and analytics can perform analysis of the data and trust the results as accurate. By adding an optimal level of inventory, security, and integration, the Smart Data Lake evolves legacy approaches to manage and mine enterprise data, while providing organizations the scalability to ask their most complex questions, and all with a much lower total cost of ownership.
Download this white paper to learn how the Anzo Smart Data Lake can help State Government agencies gain better insight into security and risk management issues, optimize operational efficiencies, innovate mission services, improve business efficiencies, and enhance data sharing.