Develop and Release Safer Medicines, Faster
Learn how Anzo® allows multinational pharmaceutical companies to deliver a competitively superior medicine to market faster and secure higher reimbursements.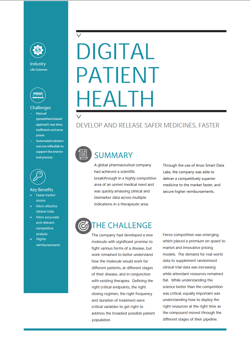 Anzo® provides a highly flexible knowledge graph-based platform that allows organizations to leverage all of their relevant data. Whether internal or external, regardless of the source form or type (i.e. structured, unstructured or semi-structured), allowing faster, better answers to ad hoc, unplanned questions impacting patient outcomes. Organizations can easily include, correlate, and analyze their clinical trial data sets, Real World Evidence (RWE) data, and patient data from genetic content to insurance claims, EHR to IoT!
Download this Case Study to learn how a global pharmaceutical company achieved a scientific breakthrough in the highly competitive area of an unmet medical need and was quickly amassing clinical and biomarker data across multiple indications in a therapeutic area.