Keeping the Big Data Promise: Data Lakes for Life Sciences
Learn how Pharmaceutical leaders are using data lakes to apply big data across organizations and product lifecycles, creating a rich fabric of information for use by everyone.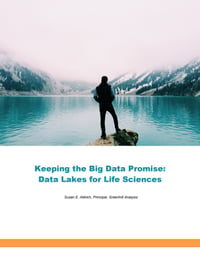 Big data leaders in the life sciences have been developing an ever-richer fabric of information for every meaningful decision, with the potential to cut development costs and timeframes by up to 30%. Rather than silos of analysis and data, and isolated special-purpose tools, they have single, pervasive data lakes containing data derived from research, manufacturing, safety tracking, trials, and post-launch responses from doctors and patients. However, achieving those benefits have, until recently, been extraordinarily costly, time consuming and inherently incomplete because the information required by domain experts for breakthrough insights has been scattered across internal and external sources.
Enter the Anzo Smart Data Lake®. It uses semantic graph technology to support timely, self-serve analysis on large collections of context rich, dissimilar data. This allows IT and end-users to combine diverse sources of structured and unstructured data, both internal and external, into a vast graph data knowledge network.
Fill out the form to the right to download this whitepaper and learn how Life Sciences companies are applying data lakes across organizations, departments, functions, disciplines and product lifecycles, creating rich fabrics of information for use by everyone.