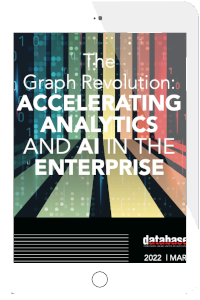 Database Trends & Applications
The Graph Revolution
Accelerating Analytics and AI in the Enterprise
Knowledge graph is at the forefront of improving automation and intelligence, and as knowledge graph familiarity grows the capability of powering real-time insights and machine learning takes center stage.
What's Inside?
Beyond the 70% increase in data and analytics innovations fueled by graph technology that Gartner predicts will take place by 2025, the firm also predicts that by 2023 graph technology will play a role in the decision-making process for 30% of organizations worldwide.
Knowledge graphs bring additional value to organizations by providing:
Context

Efficiency

Explainability
The cardinal benefit knowledge graphs offer organizations is a scalable means of amassing enterprise knowledge that focuses on its relationships.
When machine learning and AI are added, organizations can incorporate greater amounts of knowledge that are more profound. One way to do so is by inserting the outputs of machine learning model predictions back into the graph.
"As well as being a useful format for feeding training data to algorithms, machine learning can quickly build and structure graph databases, drawing connections between data points that would otherwise go unnoticed."