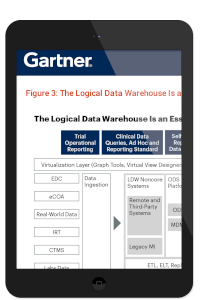 Solve Clinical Data Challenges


By adopting the latest data & analytics platforms
Dealing with increases in complexity, volume and variable sourcing, Life Science companies are having to rethink and restructure their data and analytics architectures.
Modern strategies aim to improve visibility to organizational processes and gain insight from new data types.
What's Inside?
CIOs are challenged with both the governance of growing data complexity, and the demand for visibility, utility and unabridged insights.
Life Science Organizations can prepare themselves for the future by adopting a modern structured approach to architecture and storage.
"The simple fact is that clinical trial data is increasing and including more types of data (i.e., wearables), which are proliferating exponentially, and tools for managing and storing clinical data must scale to keep pace."*
Grab this Gartner® report for recommendations on how to modernize Data and Analytics architecture with the best fit strategies to maximize insights and value from your data landscape.
When you decide it is time to reevaluate your data and analytics requirements due to the complexities of modern clinical and trial data, let this report guide you and act as a reference to ensure your organization's success.
*Gartner, Life Science CIOs: Adopt Latest Data and Analytics Platforms to Manage Clinical Data Challenges, Jeff Smith Oct 2022
GARTNER is a registered trademark and service mark of Gartner, Inc. and/or its affiliates in the U.S. and internationally and is used herein with permission. All rights reserved.