Accelerated Enhanced Regulatory Master Data Management With a Data Fabric
PRESENTOR:
Dr. Joerg Werner | Assoc. Dir. Regulatory Data Governance of Regulatory Compliance & Regulatory Information Management | Merck KGaA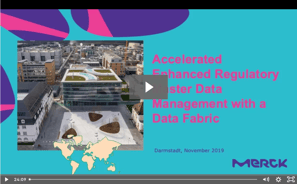 Traditional data management tools take months and millions to produce data for reporting and analytics for drug development. Merck's new data management chain, based on semantics, graph, controlled vocabularies and ontologies, is transforming the delivery of Regulatory Master Data Management for use in reporting, analytic, ML, and AI applications.
Originally Presented at the Gartner Data and Analytics Conference
in Frankfurt, Germany in 2019.