Recorded: March 18, 2021
Surfacing Insights in a Data Fabric with a Knowledge Graph
A data fabric is a modern data architecture that accelerates new and emerging business use cases such as:
customer 360

customer intelligence

fraud detection

and advanced analytics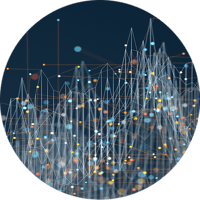 To best enable the data fabric, a semantic model is necessary to associate all related data, source agnostic, with a common language any person can understand. The knowledge graph blends data models and semantics to make all data and content readily consumable.
In this webinar, Cambridge Semantics Co-Founder Ben Szekely and guest speaker, Noel Yuhanna, Vice President and Principal Analyst at Forrester Research, describe how a knowledge graph powers your data fabric to make your unanswerable questions answerable.
Speakers
Ben Szekely, Co-Founder and Chief Revenue Officer, Cambridge Semantics
Noel Yuhanna, Principal Analyst, Forrester Research