Accelerating the Path to Value with Business Intelligence and Analytics: A TDWI Best Practices Research Report
TDWI Speaker: David Stodder, TDWI Senior Director of Research for BI
Originally recorded July 19, 2017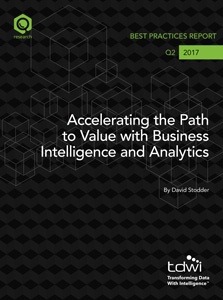 Organizations of all sizes are in competition to realize value from data – and to realize it faster. To do so, they increasingly need flexible and agile Business Intelligence (BI), analytics, and data infrastructure, not systems that take too long to develop and do not give users the dynamic, iterative, and interactive access to data that they need. Fortunately, technology developments are trending in a positive direction for organizations seeking to accelerate their path to value with BI, analytics, and the critical supporting data infrastructure. These include self-service BI and visual analytics, self-service data preparation, cloud computing and Software as a Service (SaaS), and new data integration technologies.
Watch this TDWI Webinar, which will deliver findings from a newly released TDWI Best Practice Report that focuses on how organizations can get to value sooner with BI and analytics. It discusses analysis of a major research study into the goals, challenges, and experiences of organizations as they seek to move faster with BI and analytics. This Webinar addresses critical technology trends that are making it possible to reduce delays in getting from the early stages of projects to BI and analytics applications that enable users to understand sooner what the data means and apply insights to solving business challenges.
This Webinar will cover:
Research analysis of users organizations' current experiences with BI and analytics
Best practices for overcoming delays and latency in realizing value from BI and analytics
Technology trends that are important to accelerating value
Overcoming organizational, process, and development issues that delay BI and analytics projects
Fill out the form to the right to view the full webinar. To download the Best Practice Report, click here.